You may already have noticed a lot of your fellow riders are wearing the airbag safety vests. If you are on the fence about these vests, we are here to help. In this blog post, we specifically compare the 2 airbag safety jackets side-by-side to help you with your decision making.
First, let us start with what is common between the airbags
Technology
The underlying technology is the same. By "same", we mean identical. In fact, the Freejump airbag safety vest is also manufactured by Helite. That is correct. Both the Helite and Freejump vests are made by Helite in France. As you may know, Helite is a world leader in airbag technology. Their expertise is deep in the airbag space, regardless of sports/activity. Whether it is cycling, motorcycling or equestrian, they incorporate the latest airbag technology in their products. So you can be rest assured that with either of these vests, you are getting the very best in airbag safety technology.
Manufactured In France
Both the airbag vests are manufactured by Helite in France. The materials used for manufacturing the airbag as well as the outer shell are identical.
Now that we have covered the common ground between these 2 top rated safety vests, let us discuss the differences.
Show Jacket Compatibility
So far, we offer the 2 models from Dada Sport that are airbag-compatible. There are currently no airbag compatible show jackets for Men. Both the models from Dada Sport are designed for women. The two models are :
Since the underlying airbag technology is the same, the show jackets that are approved for use with Helite are also approved for Freejump. The converse holds true as well. There is a small point to note here:
The Freejump Airbag Safety Vest is called "Zip-Free", whereas the Helite Vest is called "Zip'In 2". The "Zip-Free" implies that the vest does not need to be zipped inside of a show jacket or outer vest. i.e. you can simply wear a compatible show jacket on top of your Freejump vest.
The Helite vest has a zipper bordering the lapel and collar. This allows it to be "zipped in" to a compatible show jacket or another vest. Keep in mind, you do not have to "zip in" to a show jacket. You can simply wear the show jacket on top without any loss of safety.
Care and Maintenance
These airbag safety vests are not machine washable. The airbag will get damaged, if washed. We have another post on how to care and maintain your safety vest.
Sizing
In general, the Freejump vest is a bit more athletic fitted than Helite's vest. Of particular difference is the cut around the shoulders area. The size charts for both vests are shown below for easy comparison.
Size Chart for Freejump Airbag Safety Vest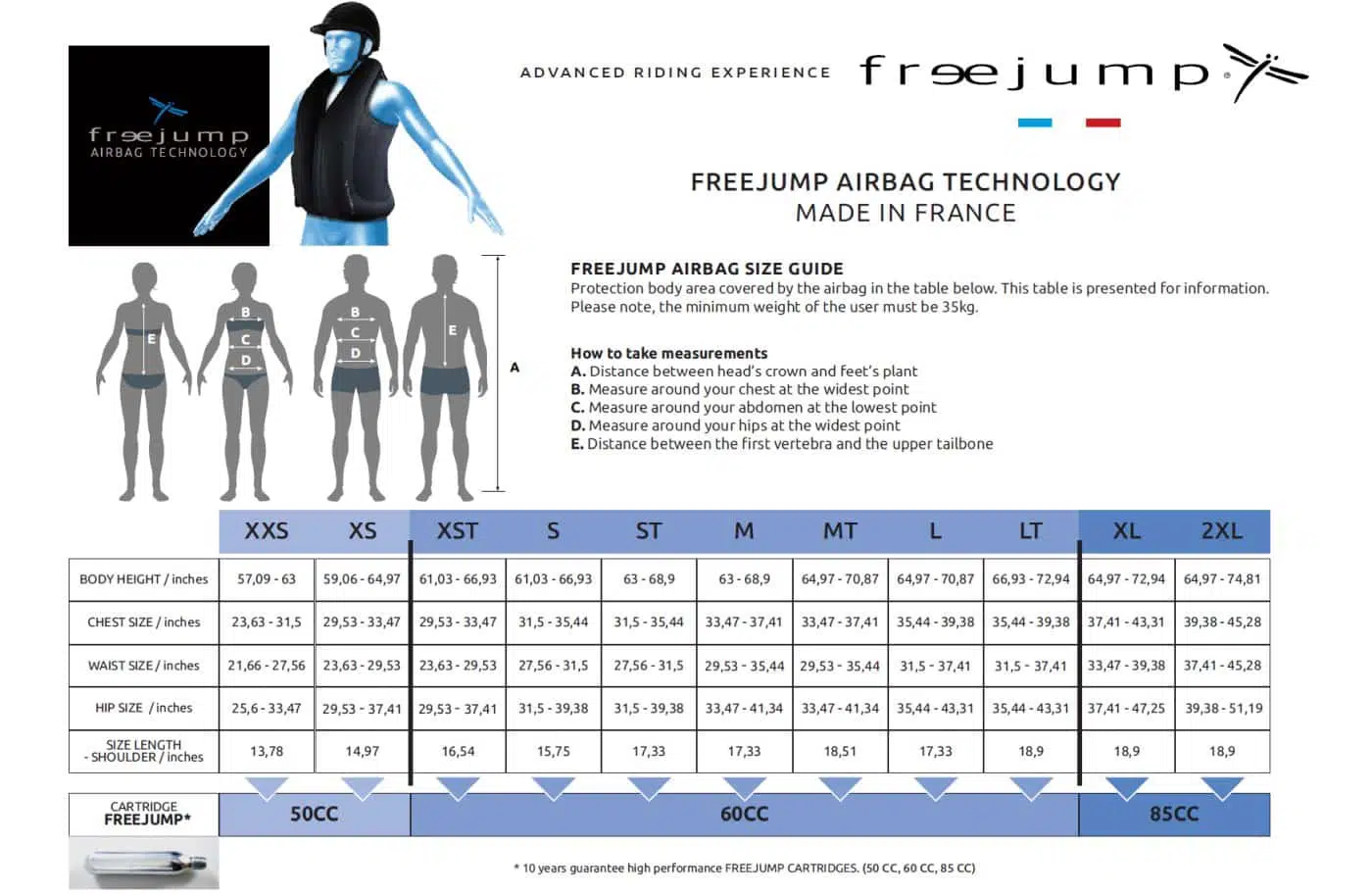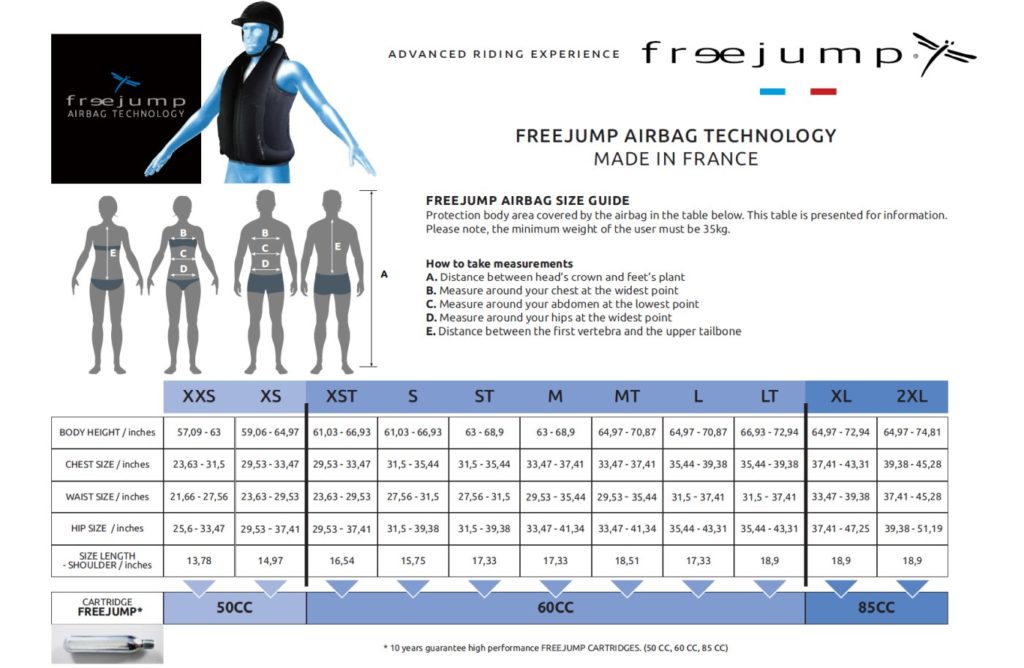 Size Chart for Helite Zip In 2


Zip In vs Zip Free
The Helite safety vest is called a "Zip In". This implies that the vest can be zipped inside of a compatible show jacket. Please note that the zipping it is NOT required. The "zip in" design is essentially to keep the new safety vest backwards compatible with the airbag-compatible show jackets by Dada Sport.
For those customers that have the original 2-piece Zip In from Helite, the outer garment can be zipped onto the Zip In 2 vest easily.
Conclusion
Do you own either of these vests? What has been your experience? We want to hear from you, so leave us a comment below. Are you in the market for a safety vest? Did you have a question we can answer for you? Ask us your question below.