It is week 4 at the Winter Equestrian Festival (WEF) at Wellington Palm Beach International Equestrian Center. International show jumping competition is in full swing, as more riders continue to arrive into town.  After an unusually long spell of cold weather in South Florida, we have clear skies with plenty of sunshine. You ask: What does that have to do with helmets?
Helmets are a necessity for riding. Given that you have to wear them, it makes sense then to make them as comfortable and stylish as possible. The good news is Samshield delivers on both these fronts. The Samshield Shadow Matte helmet is super comfortable, well ventilated and has killer looks. As far as WEF goes, the Samshield Shadow Matte is now taking over the top spot from GPA Speed Air Evolution. Not too long ago, show jumpers preferred GPA Speed Air Evolution. I believe that was primarily due to the lack of alternative options.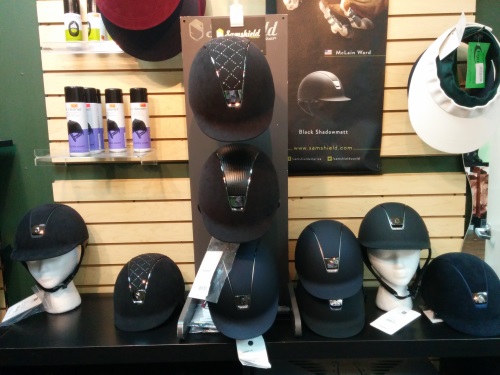 Even though Samshield first made a splash on the dressage scene, it is now enjoying a very solid reputation on the show jumping side as well. Several reasons exist for why Samshield Shadow Matte has become the favorite at WEF. We will list the major ones below.
Superior Ventilation
In warm weather areas such as Florida, ventilation is especially important. As the mercury rises, it becomes imperative that the helmet provide good air circulation. The Samshield Shadow Matte helmet is designed with ventilation channels that go around the helmet, seemingly invisible. The helmet also features an air inlet in the front of the helmet right below the Samshield logo medallion. The air enters the helmet through this inlet and circulates around the helmet before it exits through the channel outlets.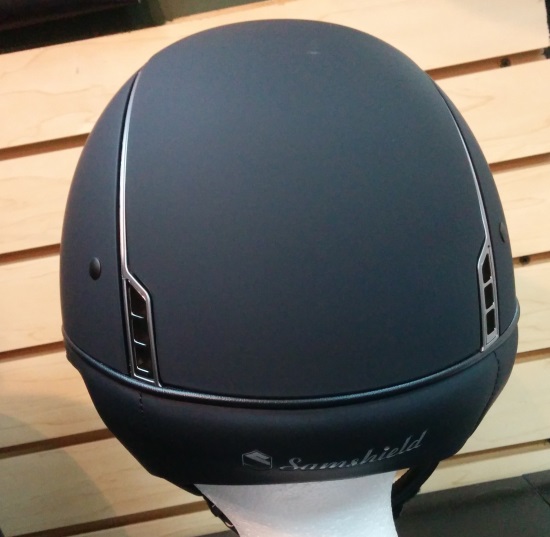 Removable and Washable Liner
Samshield revolutionized the riding helmet industry by being the first at removable liners that are washable. The liners snap on to the shell in pre-designated snap holes. The liners are literally a "snap" to detach (no pun intended). Not velcro, just snap for a cleaner, easier remove mechanism and for secure fastening. The liners can be washed with soap and water and dried. They are composed of memory foam which retains its shape.
With use, the liner will wear out and compress. If it is unusable to the point where the helmet no longer fits, you can simply buy a new liner. Snap the new liner in place and voila, your helmet is as good as new!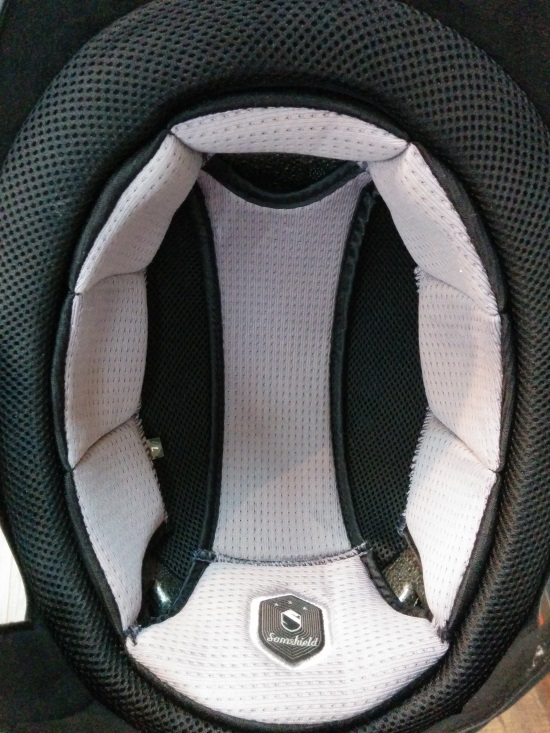 Best Fitting Helmet
So far, we have noticed that the Samshield Shadow Matte Helmet is is well suited for a variety of different heads. The ability to interchange liners from both the styles of Samshield Helmets (Shadow Matte and Premium) makes it easier to fit these helmets. A lot of our customers prefer to go with the Premium liner because it does not make any contact with the forehead. The liner is shaped differently than that of the Shadow Matte Helmet, but both style liners are compatible with either helmet.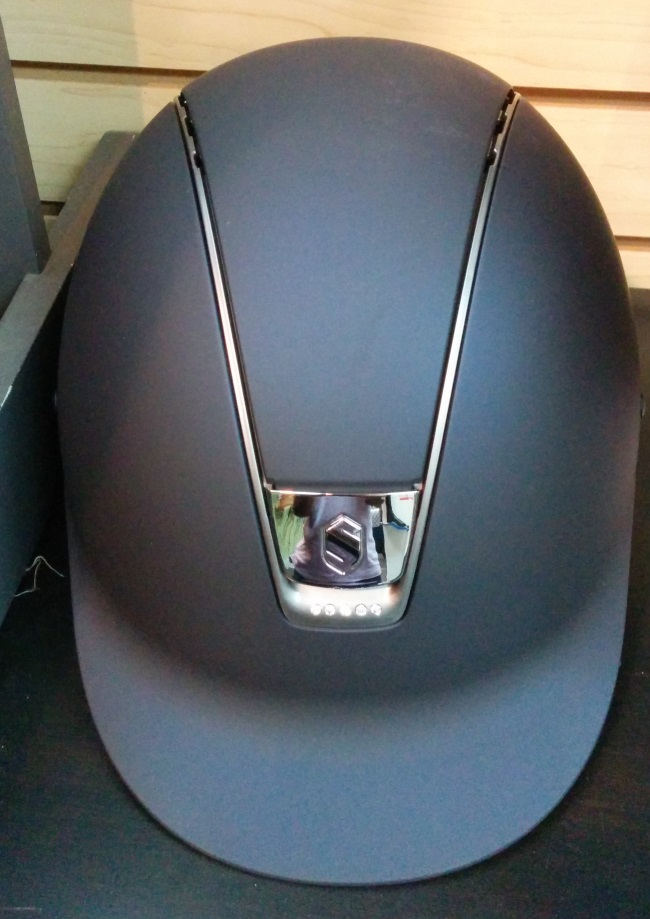 Sizes that fit everyone
Among many firsts in the riding helmets industry, Samshield introduced yet another innovative technique to helmet sizing. Conventionally, helmets come in sizes 6 1/2, 6 5/8, 6 3/4, 6 7/8, 7 , 7 1/8, ……..7 3/4. Instead of creating all these different sizes shells, they took a different approach. In retrospect, that approach seems obvious. Samshield Helmet Shells come in just 3 sizes, Small, Medium and Large. Within each shell, different liners can be attached to achieve the whole range of helmet sizes. For example, the liner sizes 6 1/2, 6 5/8, 6 3/4 can be attached in the Small Size Helmet Shell. Similarly, the Medium shell takes in liner sizes 6 7/8, 7 and 7 1/8. Liner Sizes 7 1/4, 7 3/8, 7 1/2, 7 5/8 and 7 3/4 are for Large Shell helmets.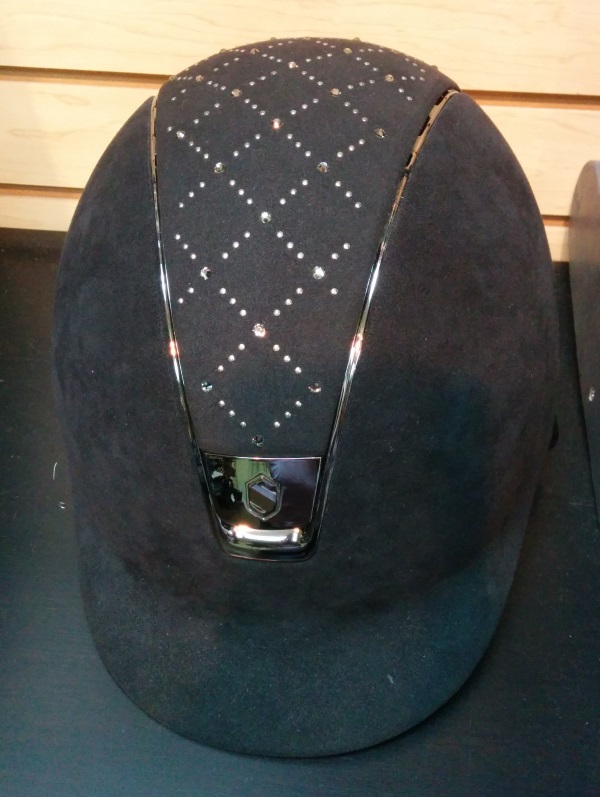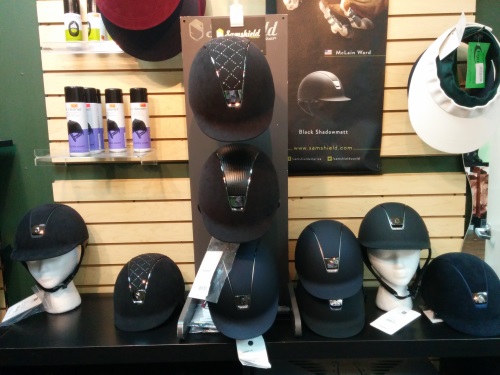 Buy your Samshield Shadow Matte Helmet here.
Full Family of Samshield Shadow Matt Helmets
Related Links
Samshield Shadow Matt Helmets Collection
Customize your existing Samshield Helmet
If you need help with sizing, visit our Wellington Store or call/text us at 561-228-8883 or Contact Us. We can arrange to ship the helmet to you where you can try the helmet in the comfort of your own home.