UPDATED March 2017: The Fior Da Liso brand/collections have been discontinued and retired as of January 2017. Please direct all your questions directly to the Fior Da Liso website. We do not have any information or details on specific models or on the brand in general.
Is it possible to fall in love with a shirt? Customers that have purchased any of the Fior Da Liso Shirts have answered in the affirmative to that question. In fact, these shirts are so popular you are likely to see someone wearing it at the show grounds.
These shirts are breathtakingly gorgeous and offer a flattering fit. What started out as a small venture has now expanded to a separate market of itself. That is correct. Between WEF 2014 and AGDF 2014, these shirts were the most popular selling single product.
Fior Da Liso is an Italian flower, hence the flowery patterns of the shirts. The shirts are versatile and present a fresh, unique look. The shirts fit great, the patterns are so unique. It is like wearing a custom shirt. When you walk out wearing a Fior Da Liso Shirt, you exude confidence and style. With so many attractive designs to pick from, it can be hard to just pick one. That is why, women often elect to buy atleast 3 of these shirts. There are about 50-75 different patterns, styles and colors to pick from. The same shirt looks drastically different when the colors are changed. One example of this is the Emma shirt. It comes in a vertical striped pattern on a white base. The cuffs are adorned with beautifully contrasting flowery pattern. The Emma shirt comes in either the Diva Blue Stripe or the Brown Stripe.
Size Chart
Here is a size chart to help you determine your size in these shirts.
CLOTHING – SINGLE SIZE CONVERSION
UK
4
6
8
10
12
14
16
18
20
22
24
26
EUROPEAN
32
34
36
38
40
42
44
46
48
50
52
54
US
1
2
4
6
8
10
12
14
16
18
20
22
AUSTRALIA
4
6
8
10
12
14
16
18
20
22
24
26
CLOTHING – SINGLE SIZE
SINGLE SIZE
US1
US2
US4
US6
US8
US10
US12
US14
US16
US18
US20
US22
CM
IN
CM
IN
CM
IN
CM
IN
CM
IN
CM
IN
CM
IN
CM
IN
CM
IN
CM
IN
CM
IN
CM
IN
BUST
76
30
78½
31
81
32
86
34
91
36
96
38
101
40
108½
43
116
45½
122
48
128
50½
134
53
WAIST
58
22¾
60½
23¾
63
24¾
68
26¾
73
28¾
78
30¾
83
32¾
90½
35¾
98
38½
104
41
110
43½
116
46
HIPS
83½
32¾
86
33¾
88½
34¾
93½
36¾
98½
38¾
103½
40¾
108½
42¾
116
45¾
123½
48½
129½
51
135½
53½
141½
56
A Shirt for every day of the week
Fior Da Liso has so many gorgeous shirts, it is easy to find one that fits your taste and style. All the shirts are classy and elegant.
Monday
Similarly, the Sara II shirt is a basic White background shirt. Its different variations include the White WaterFall or the Red Chili. The matching elbow patches also feature a pair of butterflies for a fun effect.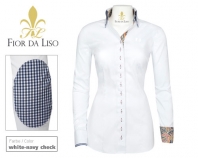 The Andrea II shirt has been a major hit this season. It comes in the Chilli Stripes or Vintage Denim Stripes. This shirt features a 2-button collar. The cuff also has two layers of fabric, a very helpful feature, since this keeps the cuff in place. The shirts are supposed to be worn mostly with the cuff up.
Tuesday
The Kyra II boasts a gorgeous pattern in pink checks. The cuff sports another beautiful floral. This is a perfect Spring shirt. For those of you that are check lovers, this is an absolute must-have.
 Wednesday
The Emma II shirt is a new limited edition. This shirt is the antidote to boring. With beautiful alternate stripes in either Diva Blue or Brown, this is a sexy shirt. Whether you are a jeans girl or a skirt girl, this one will find a favorite spot in your closet.
Thursday
The Arianna Shirt is another shirt with a beautiful vertical stripes pattern. The Arianna is a classic signature Fior Da Liso shirt. This shirt has long been a bestseller. It is easy to see why. The shirt features thin pin-stripes in light blue on a white base.
Weekend Shirts
The Raphaela and Tabea II shirts are perfect for weekend wear. Wear the Tabea II shirt and shine with the Swarovski crystals embedded inside the shirt.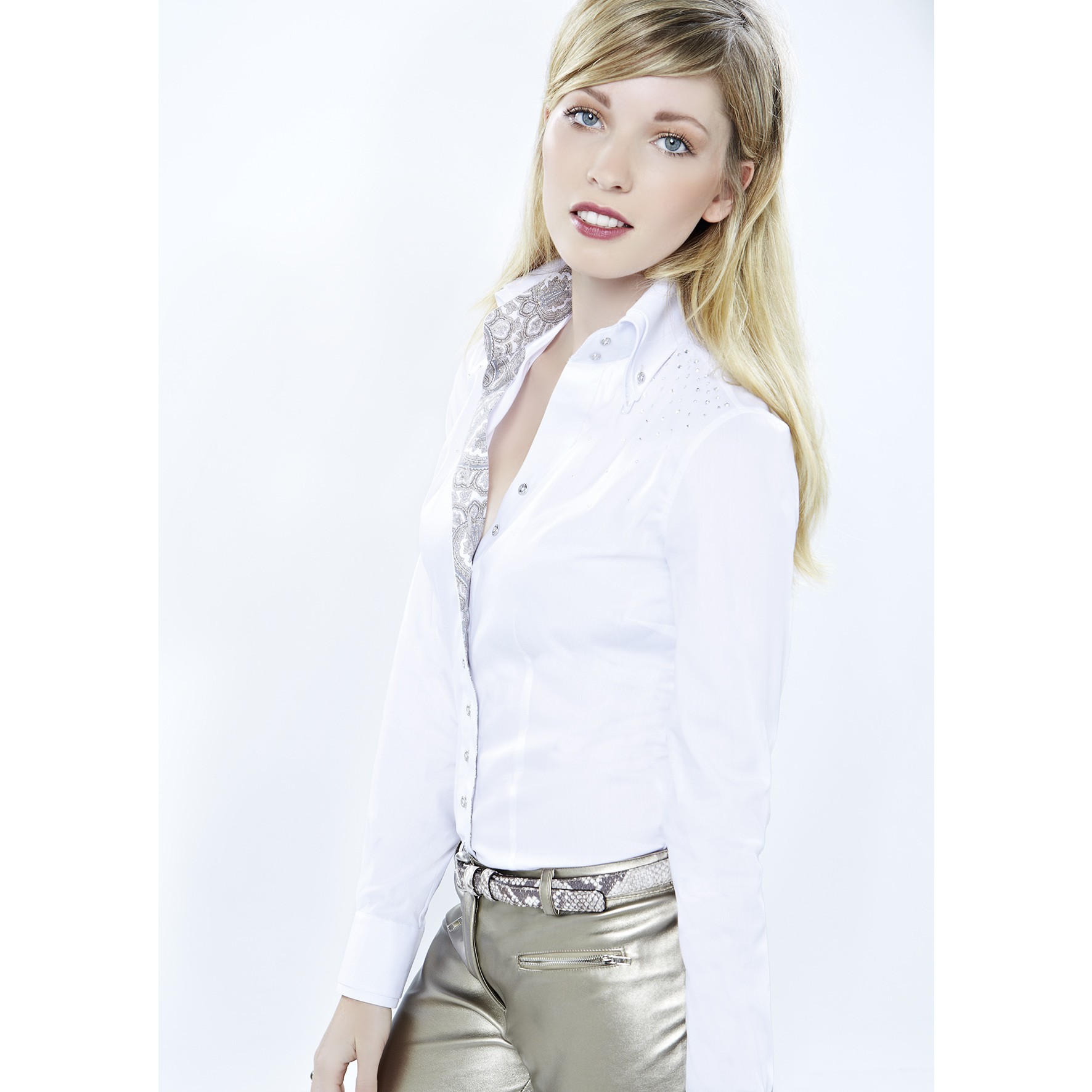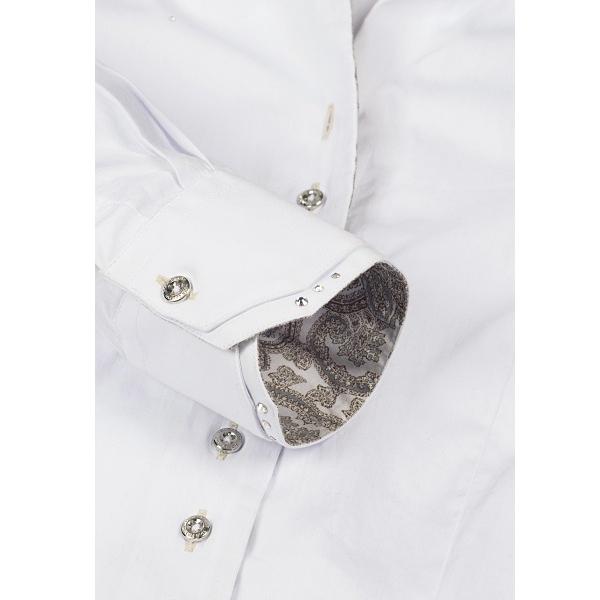 So there you have it. A shirt for every mood and occasion.
If you have one of these Fior Da Liso shirts, feel free to tell us which one is your favorite.  What do you wear it with?