Horse Riding (and show jumping in particular) imposes a lot of stress on the body. Show jumping is an action sport, utilizing multiple parts of the body working in concert. There are lots of pressure points within the horse and rider combination. One of the more important pressure points is the rider's feet (and legs, in general).
Introducing Stirrups with shock absorbers: Flex-On Stirrups. Flex-On Stirrups are built from the vision that your feet and legs take the most impact. It does not have to be  that way. That is why the husband and wife team of Laurent Bordes and Caroline Bordes (avid equestrians), combined their talents to develop the revolutionary shock-absorbing stirrups that are "comfortable, accurate and solid".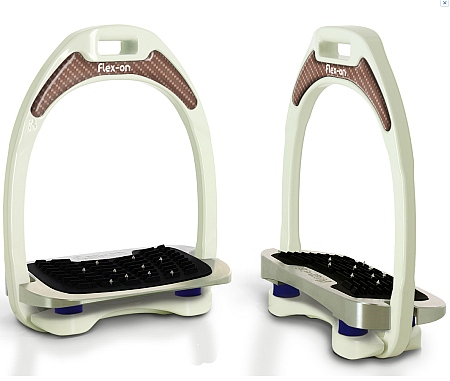 How Does it Work?
The Flex-On Stirrups have a very effective shock absorbing system. The premise of these stirrups is the advanced shock absorption design. The tread (foot board) of the stirrup rests on elastomer springs. These springs impart the ability of absorbing shock. The elastomers innately absorb the shock of impact. Much of the impact is therefore localized by the elastomer springs. The 4 elastomer springs distribute and dissipate the impact evenly.

There are 3 levels of hardness for the elastomers: Soft, Medium and Hard. The Soft Elastomers are recommended for endurance riding; Medium recommended for leisure riding, hiking, dressage and jumping; Hard or CSIO and Cross-Country riding.
Ultra Grip – Magnets Not Needed
The Flex On Stirrups come in two broad versions: Composite Flex On Stirrups and Aluminium Flex On Stirrups. While they are made from different materials, the ultra grip is same on both stirrups. The ultra grip tread is made from advanced polymer with "crimped pins made of hardened steel".  These pins protrude about 1/8th inch from the foot tread. The main purpose of the pins is to enable secure grip. The strong grip is achieved without the use of any magnets, which require modification to your boots.
So far, these stirrups are being praised by some of the top show jumping riders in the Wellington area. Of particular note is the "grippy" aspect of the stirrups.
Customize It
The Flex-On team did not just stop at creating a high-performance stirrup. Just like with most other riding gear, they added the ability to customize your Flex-On Stirrups. This is achieved easily by the following process (illustrated in the image below).

It is an easy process to customize your stirrups. The customizable magnetic inserts allow you to create your own stirrup.  Shown below are some of the flags we have designed for our customers. You can also create your own personal icon (versus a flag), maybe a farm logo. Contact Us for any other questions. Or call/text us at 561-228-8883. We are always glad to help.