Custom Show Coats  (Fully Personalized and Tailored) by Lotus Romeo
The term "custom show coats" gets thrown around quite loosely. Often times, it means you get a handful of choices for changing the color of the jacket, the collar and buttons etc. While many other brands will offer a "Customization" option, it is usually limited to just a handful of choices that do not affect the styling of the jacket as much as the colors.
A few years ago, we noticed that our customers demanded more flexibility for design options. They did not want to be limited to just 2 styles and 5 colors. They want to mix and match style elements along with different options for buttons, trims, collars and lapels. In other words, customers are increasingly looking to personalize their look. What good is a "custom" jacket if every other rider has the same jacket?
We are thankful to our customers for guiding us in introducing a beautiful line of fully personalized show jackets: Lotus Romeo. This is a brand whose owner's artistic forte guides her philosophy for the brand "The Art of Unforgettable Style". Eva Szekely, the owner of Lotus Romeo truly believes in this mantra. The idea is to create a unique jacket for everyone. Personalized Show Clothing should not be un-affordable either.
In late 2016, we introduced Lotus Romeo in a limited launch at the store location. What started as a small bespoke line of show jackets, has now blossomed into a very expansive line of short jackets, hunter shad tailcoat, dressage shads and show shirts.
During the 2 weeks at WEG in #tryon2018, you will have the opportunity to see these jackets up close. You can try them to get a general sense of the overall fit and quality. From all the feedback we have been gathering, Lotus Romeo jackets are being very favorably in terms of styling, quality and comfort compared to offerings from the other bigger brands. In fact, the ironic part is that these "bigger" brands have now started copying the Lotus Romeo model in a desperate effort to catch up.
Dressage Tailcoat Shadbelly "Natasha" from Lotus Romeo (fully configurable and custom)
Natasha – This is the original dressage shadbelly from Lotus Romeo. It remains one of the most popular options to date. With a look that combines the classic with modern, this shadbelly can be configured in a variety of ways.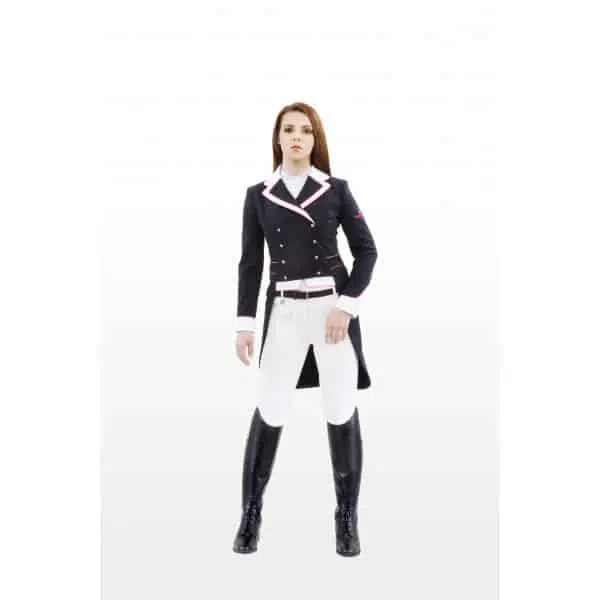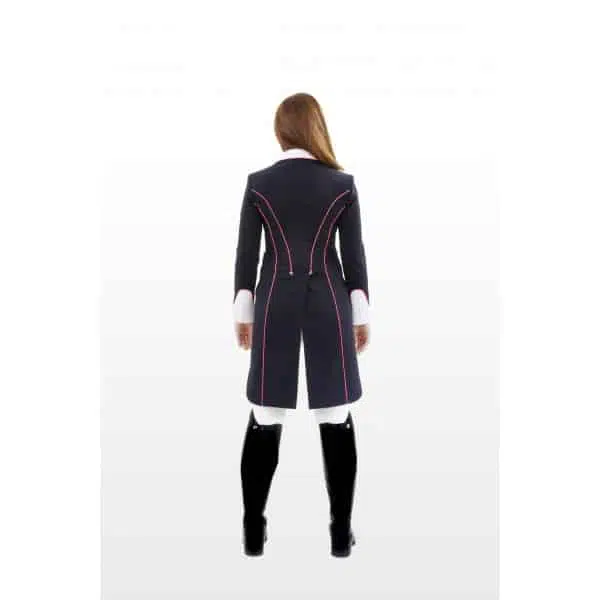 Dressage Tailcoat Shadbelly "Elegant" by Lotus Romeo (fully customizable and tailored)
Yet another beautiful shad that lives up to its aptly titled model name  "Elegant". With this shad, you can optionally design a bow at the back. The Burgundy color shown below is a new limited edition color.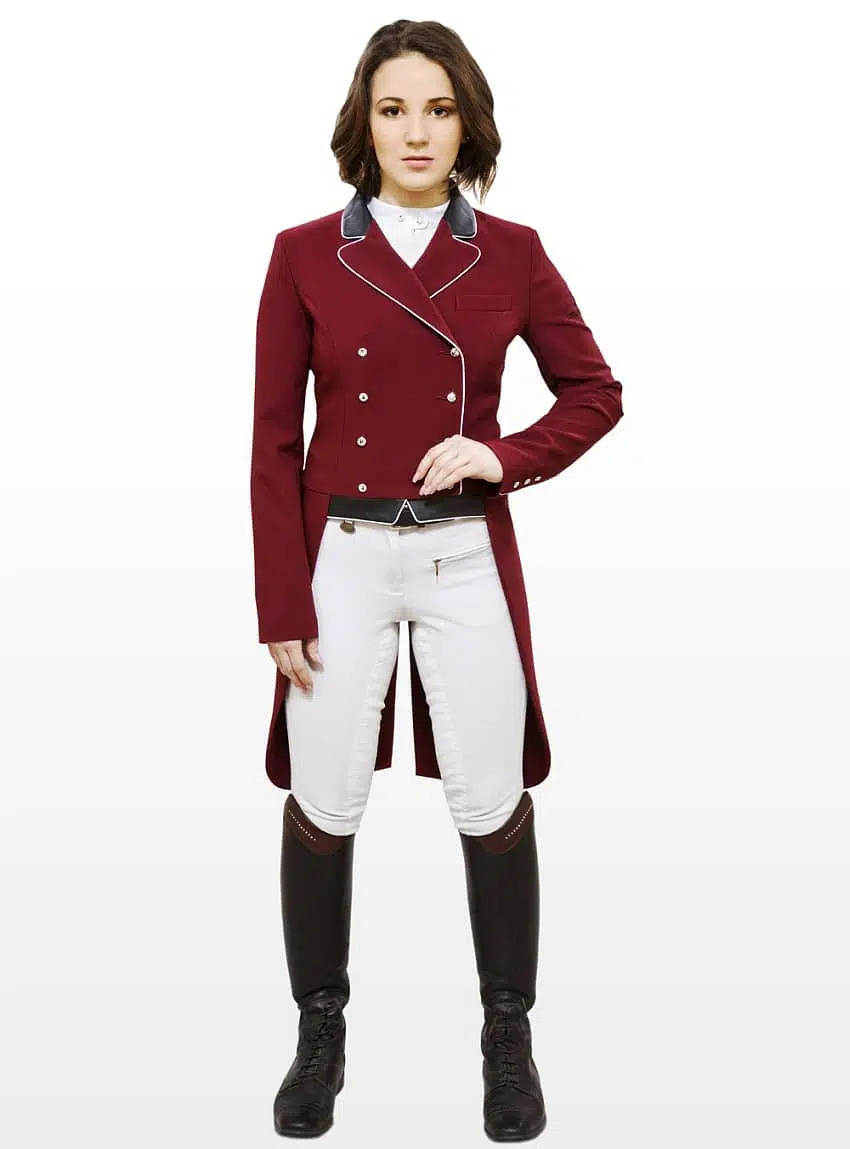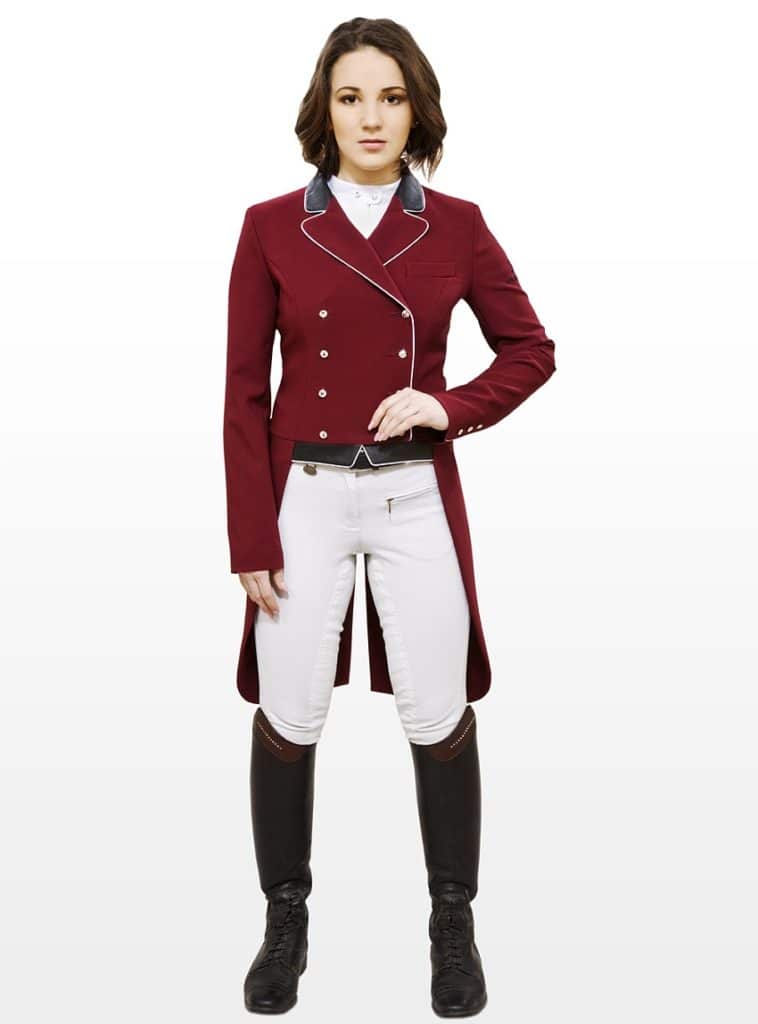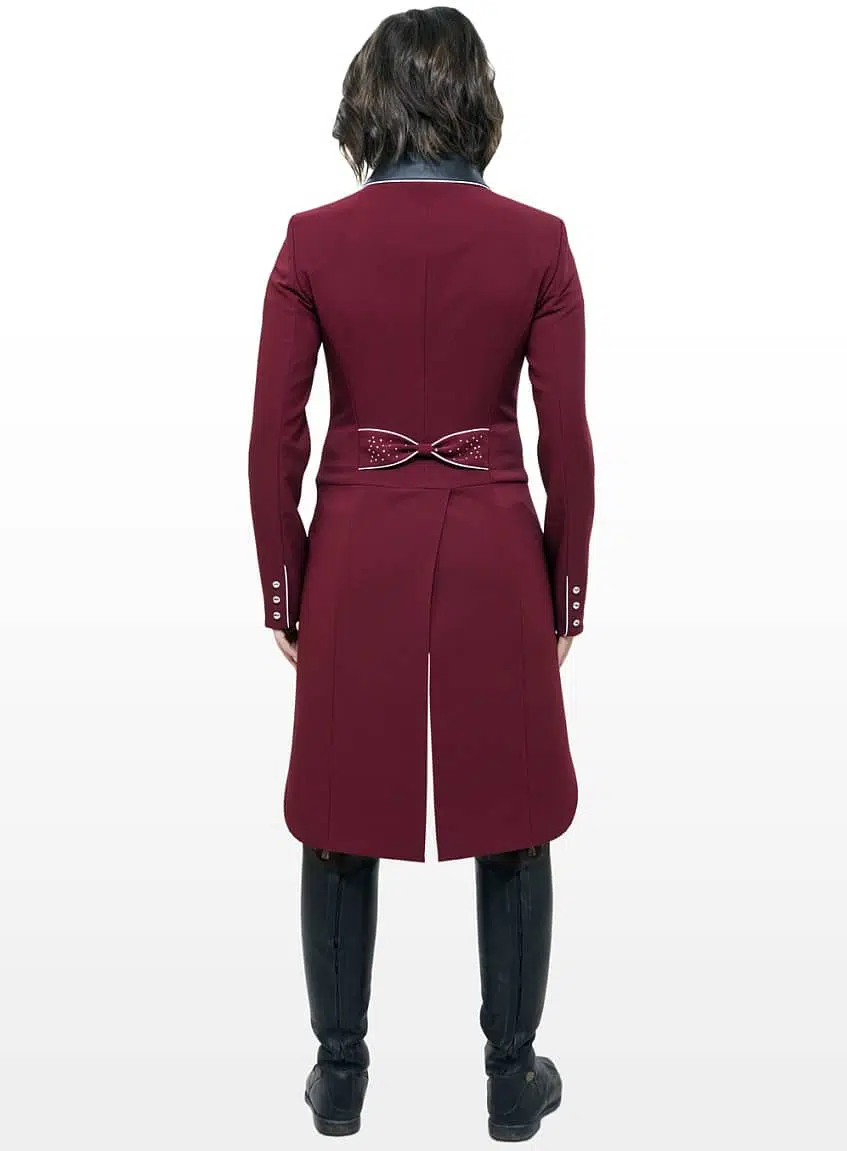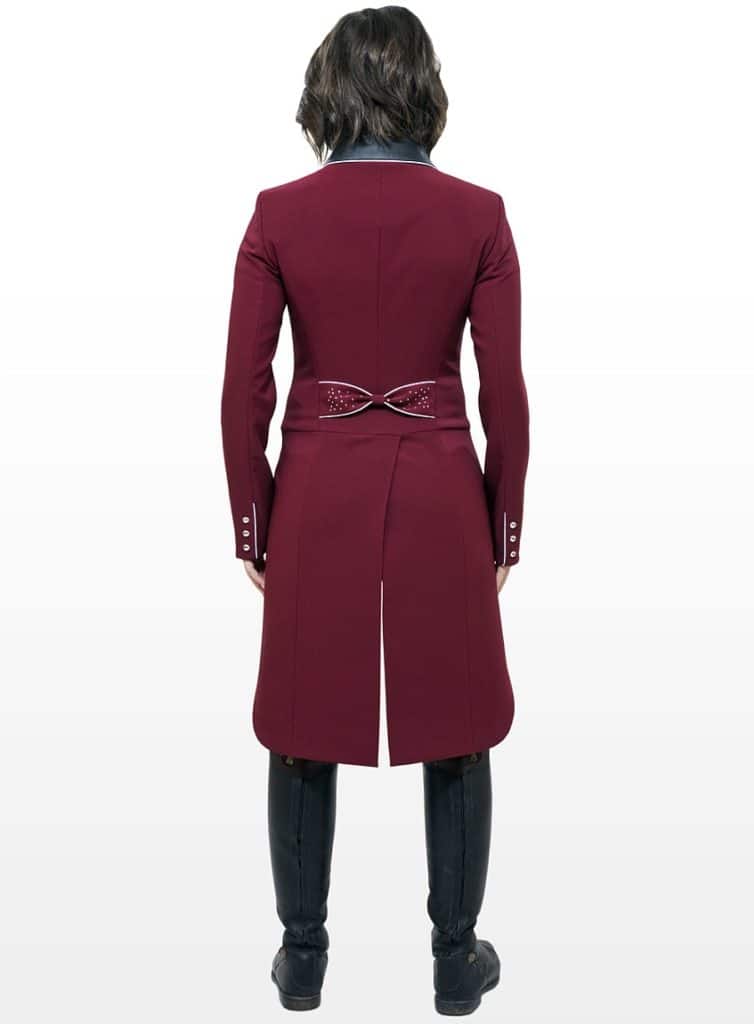 What Is Included
This is what you get in the Fully Customized Dressage Shadbelly by Lotus Romeo
Personalization
Base Colors: Black, Navy, Burgundy, Grey and Brown
Collar Color: 30+ Colors (including Satin and Leather)
Collar Piping: 30+ Colors
Cuff Color: 30+ Colors
Waist Piping: 30+ Colors
Buttons: 6 Styles
Mix And Match Styles
Say you like the style of the Natasha but want to add elements from the Elegant model? With the new Deluxe Mix and Match service, you can do that too! Nothing is out of reach anymore. Unlike the other brands, you are not boxed in to just 4 options.
Tailoring
Optionally, a 4 point tailoring adjustment is included as well. This covers:
Length Adjustment
Sleeve Length Adjustment
Shoulders Adjustment
Waist Adjustment
Conclusion
Are you ready to design your own dream shadbelly? Wait no more. Click on the button below to get started.
Design My Custom Shadbelly