Who says Helmets are not stylish? A couple days ago, Abby from Orlando stopped by the store, looking for a Samshield Premium Helmet.  Abby wanted to upgrade from her current Charles Owen to the Premium Custom Samshield helmet. After trying on a few different sizes, we determined her size is 6 7/8.
Here is the gallery of custom Samshield Helmets designed by our customers.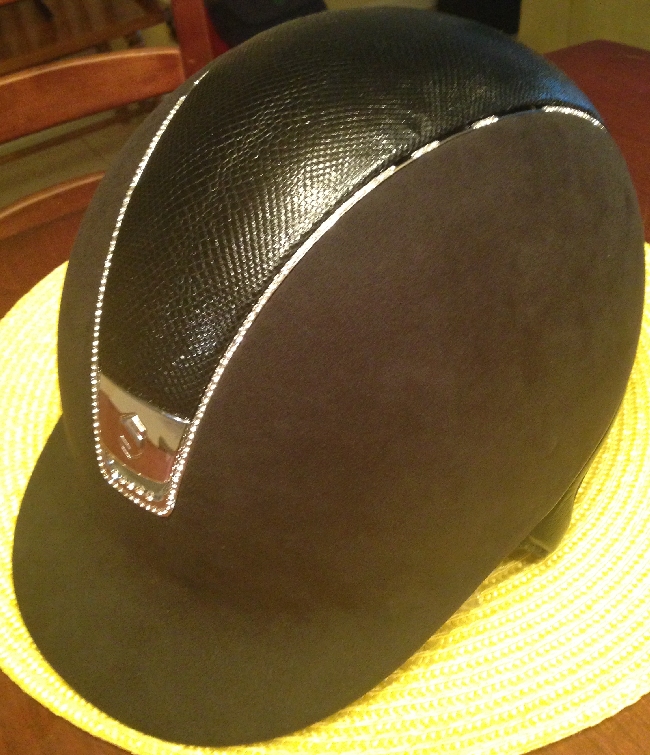 The key features of the Samshield Helmet are:
Removable Liner that can be rinsed, air dried
The excellent ventilation on the front, back and through the side channels.
The customization options are plenty, making each helmet a unique one.
Custom fit can be obtained by using several different sized liners within the same helmet shell.
Among the customization options are :
Shell Material – Leather or Alcantra
Shell Color – Black, Blue or Brown
Top (inlay) Material : Python, Lizard, Crocodile, Stingray, Leather, Alcantra, Flower, Crystal Fabric all available in a choice of colors.
Trim – Black Chrome, Chrome, Blue Chrome, Pink Chrome, Gold Chrome, Matt Black, Matt Navy Blue
Trim Stones – 5 stones or 255 stones
Blason (this is the front medallion with the Samshield logo) – Chrome, Black Chrome, Gold
Nameplating – Sponsor, Name, Signature
As you can see from this list, this helmet is highly configurable. With so many different choices, you can always find a Samshield Helmet that reflects your individuality and style.
Abby decided to go with the Black Alcantra Shell, Black Crocodile Inlay, Chrome Blason, 255 Trim Stones.
While it will take a few weeks before we receive Abby's custom Samshield Premium Helmet, we are eagerly awaiting to take a look at it. Stay tuned for pictures of this beautiful helmet.
Useful Links
Standard Samshield Premium Helmet
Standard Samshield Shadow Matt Helmet
Gallery of Custom Samshield Helmets