When it All Started
Anatomic bridles have started to become all the rage for both dressage and show jumping. Many companies have started on the trend of creating more comfortable bridles. Karin Bjarle – creator of PS of Sweden – launched one of the first anatomic bridles in 2011. Her idea was to create something that was beneficial to the horse. So she came up with an out of the box idea. Today I'll be discussing two popular brands PS of Sweden and Schockemöhle.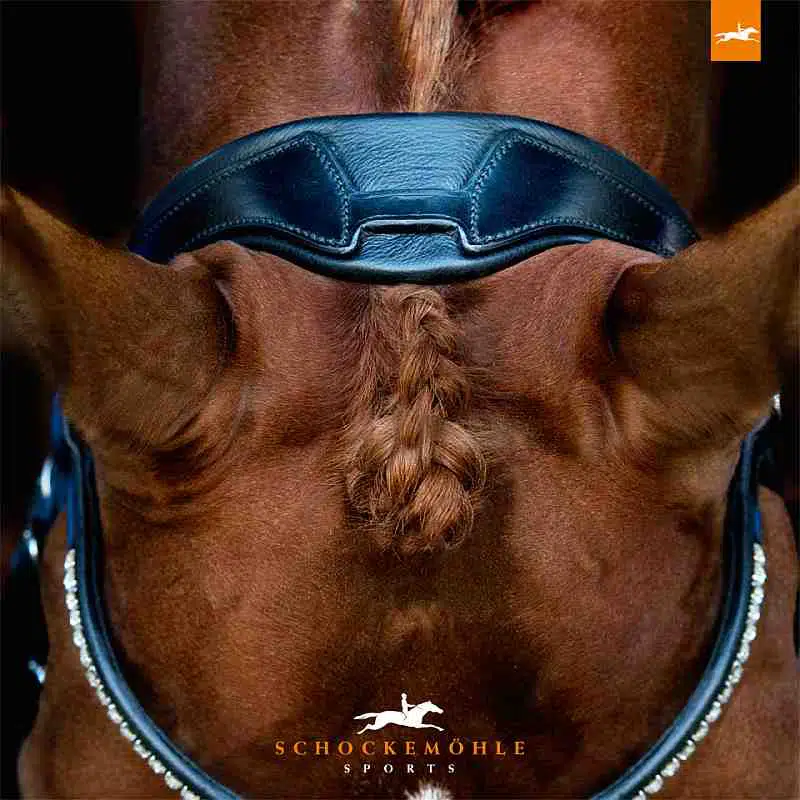 PS of Sweden's Idea
PS of Sweden bridles features a wider headpiece than the traditional bridle to distribute an even amount of pressure on the poll. It also has a deep cut for the ears so they can move freely without pinching or discomfort. A unique feature that the PS bridle has is Bit Cradles in the cheek pieces. It is a small piece of elastic that holds the bit suspended to give it a softer feel in the horse's mouth. Karin's ideas didn't end there she went a step further and created a new browband. They now snap on and snap off for an easy change. No more pulling the bridle apart to change your bling!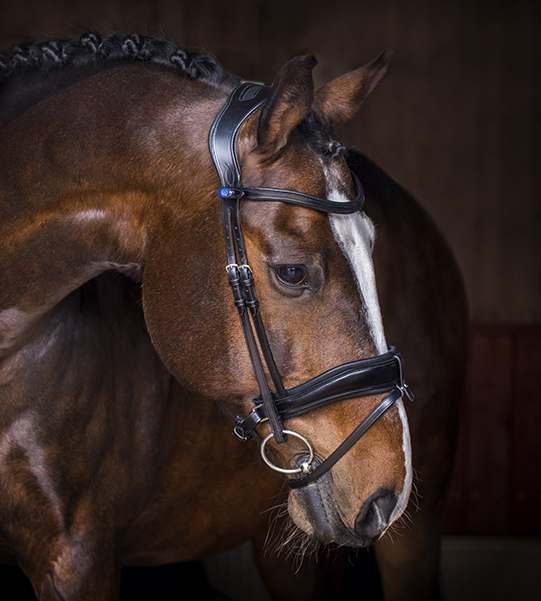 Anatomic Bridles by PS of Sweden
PS of Sweden offers a variety of anatomic bridles for both show jumping and dressage. High Jump (pictured below) is one of their jumping snaffles. It has all of the common features of a PS bridle. The main difference is the noseband. This noseband has a deep contour along the cheek bones to avoid putting extensive pressure on the sensitive facial nerves. It also features a noseband and flash farther away from each other avoiding unneeded pressure on the upper jaw molar teeth. The bow (the pad that replaces the actual noseband) is adjustable to give each horse a uniquely perfect fit. PS offers a model similar to this called Jump Off. While the High Jump and the Jump Off can be used for dressage, a similar model specifically for dressage is available called Nirak. PS also offers multiple other options for both show jumping and dressage double and snaffles.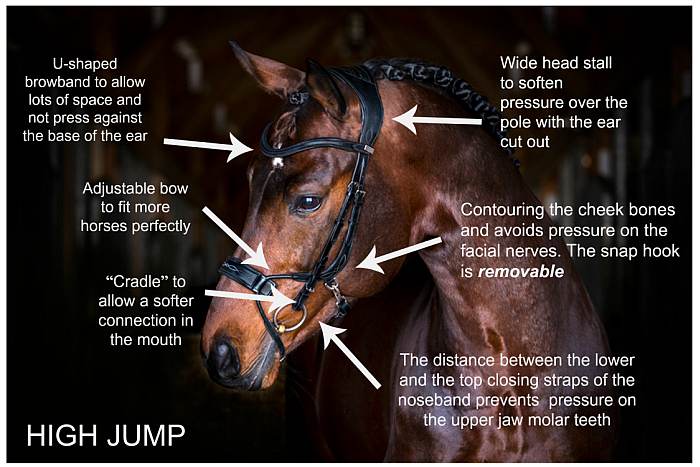 Schockemöhle's Spin on Anatomic
Schockemöhle has created their own line of anatomic bridles bringing their spin on things. They created a new innovative scientific design by going a step further. They looked what's under the skin of the face. This has helped them create a design works with the biological makeup of the horse. This has unveiled that where the traditional noseband lies unnecessary pressure is applied on the nervus fascicles and nervus trigeminus (shown in orange below). Pressure on these very sensitive nerves has been linked to pain in the face. Ultimately creating problems from the poll throughout the body since the Fascia (connective tissue) is all connected. The caveson also connects at a lower point allowing the circulation to run freely through the face. In addition, the flash sits in a sideways positioning allows the horse to breath better without restriction since it no longer sits on the nasal cavities. The headpiece is similar to the PS of Sweden, but they created their own take on it. Instead of having a wider headpiece with a deep ear cut they made it out of a softer more flexible leather with an anatomical shape. It also features cheek pieces attached to the noseband allowing for a more stable connection and small stimulation on the noseband enhancing the connection with the horse and rider. Overall, the difference to todays innovative technology compared to the older bridles brings new standards to our sport. Allowing us to give our horses maximized comfort.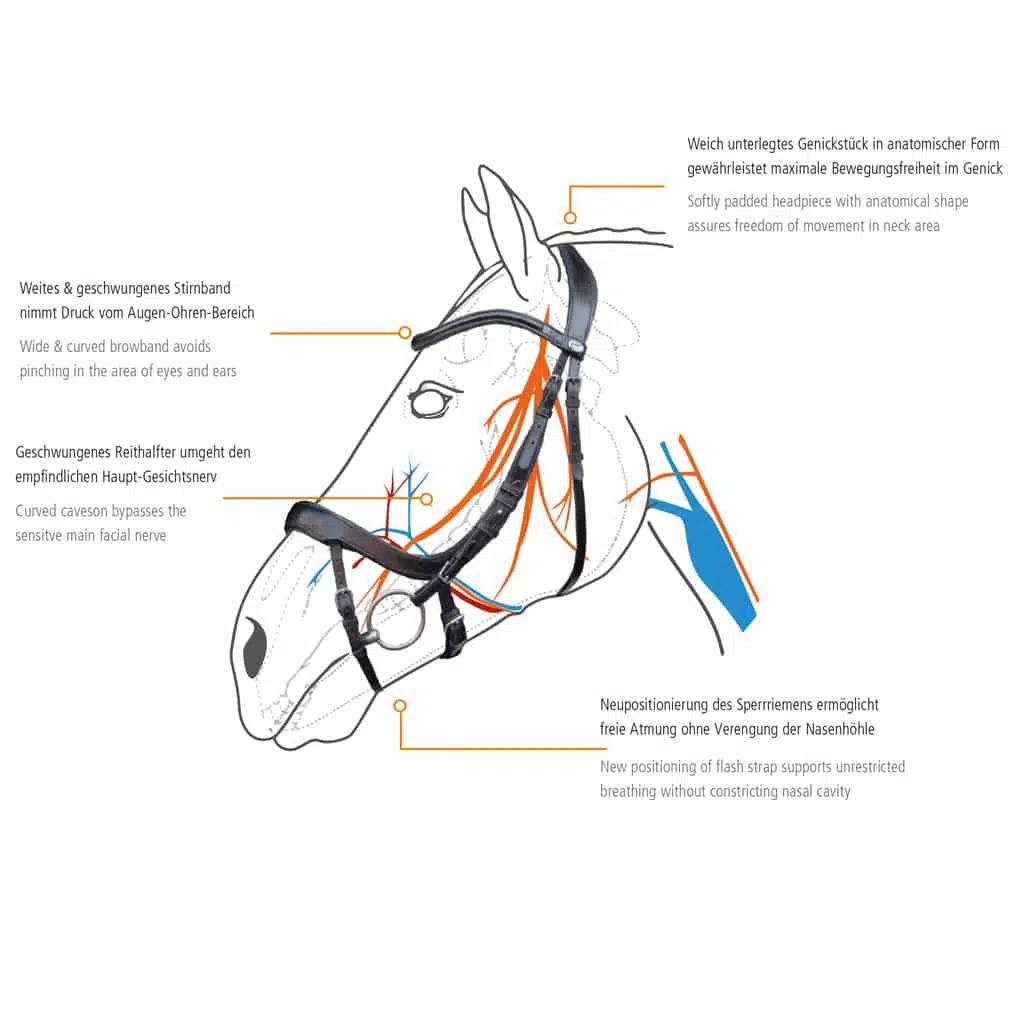 Anatomic Bridles by Schockemöhle
Schockemöhle has multiple models for anatomical bridles. They have the Equitus collection (pictured above) which features three different snaffles. One is fleece lined with a flash, another is just a regular snaffle with flash, lastly a snaffle without the flash attachment. They also offer the Equitus in a double bridle. Schockemöhle also offers a more traditional looking anatomical bridle featuring a curved noseband and anatomic crown piece. They come in both jumping and dressage in snaffles and doubles.
Here we have a handy table comparing all the different dressage bridles that form part of the Schockemoehle Sports Anatomic collection: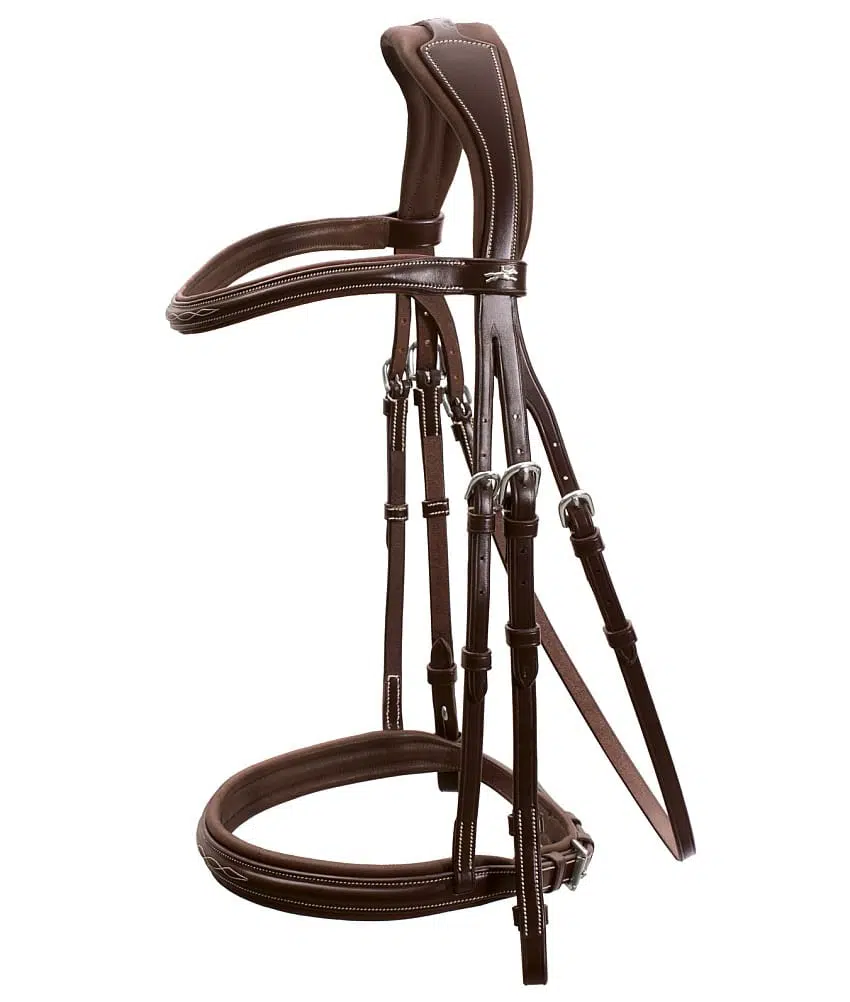 Conclusion
Overall, anatomic bridles have been scientifically proven to benefit your horse. From avoiding sensitive pressure points and nerves to allowing better blood circulation. It's hard to turn down the modern bridle especially when there are so many different options and styles. So, next time you're in the market for a bridle and want something that will improve your horses performance think anatomic.