History
The Secchiari boot company is a family owned business, which means their reputation and pride is represented in their company's products. In 1950, Stivaleria Secchiari was founded by Alfredo and Emilia Secchiari in Le Marche, Italy. With almost 70 years of experience, from 3 generations, they have mastered the art of boot making. Today, they still use the traditional marksmanship with the highest quality of leather. This makes Secchiari a top pick for equestrians around the world.
No. 1 Quality
Stivaleria Secchiari prides itself on the quality and durability of the leather that they use in their Italian boots. They hand pick out the leather they use in all the boots and accessories in Tuscany, Italy to ensure it's to the highest of standards. Secchiari's have a softer feel than most boots allowing you to keep close contact with your horse while being extremely durable. The soles of the boots and shoes are hand sewn and glued on. This makes the soles last longer compared to other companies which just use one method. The boots are more form fitting compared to others allowing for minimal "breaking in" time. They also have an elastic hidden along the zipper which gives the boot extra stretch for a perfect fit. These two features combined reduces the amount of wrinkles in the leather giving you a sleek, professional look.
No. 2 Options
Secchiari has a variety of "off the shelf" options from short boots and chaps to dress boots. Some of the featured tall boot models that they offer include the Zues which is a men's showjumping model featuring a fancy stitching on the front. They also have this model in womens, Athena. Another jumping boot they offer is their field boot with laces. Their most popular dressage model is Roma, which is a sleek design featuring the hidden elastic, a rigid leather on the outer part of the boot but a soft leather inside.
The short boots and chaps that they offer are beautifully crafted to give you the look of a tall boot. The most popular short boots are similar in style to the Zues and Athena. With a fancy stitching design on the front with elastic on each side of the zippers, comfort, quality and durability are wrapped into one. They offer this short boot in both men's and women's. These short boots are designed with a snap on half chap made with soft and durable leather offering a reinforced inside. These half chaps and boots are made with the highest quality calfskin allowing for almost no break in time. They also offer the chaps and boots in a more simple and classic design.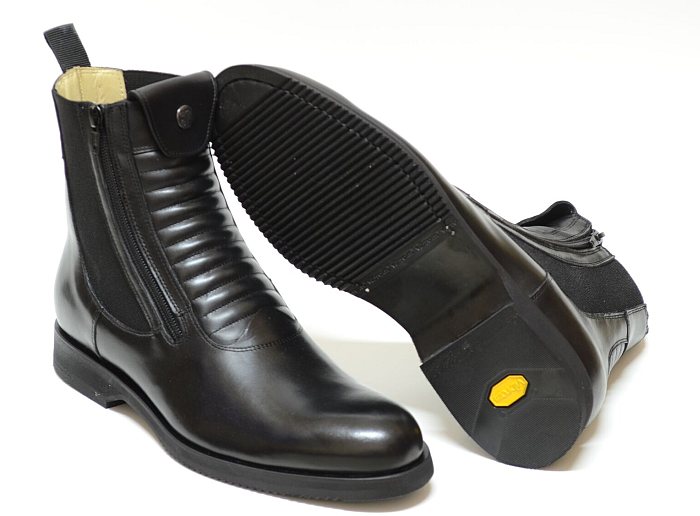 No. 3 Custom Orders
The options are endless when it comes to the customization of Secchiari boots. They offer an abundant amount of colors from patent to antique finish, with tons of ways to customize from the toe to the crown. Secchiari bootmakers will create your customized dream boots. One custom model offered is the Columbian Luxury Leather Top. This boot features your choice of boot color, toe and heel color and the option for front laces. Tack N Rider also provides customized measurements to have a boot that fits like a glove and looks anyway you'd like. The best part about a custom Secchiari boot is that it only takes 6 – 8 weeks for delivery. Compared to other companies which have a wait time of up to 6 months.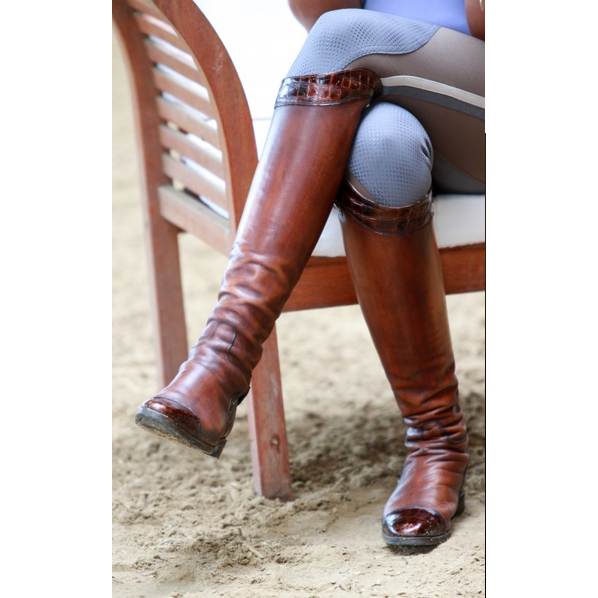 Conclusion
Overall, Stivaleria Secchiari is unique and elite. This traditional family owned company offers the best craftsmanship, quality, and versatility and it is at the forefront of bootmakers for equestrians around the globe.