In an earlier post, I had explained why Freejump has been successful. A big part of this success comes from their relentless desire to innovate. No other boot maker has accomplished so much success. By success, I do not mean just volumes of sales. At the end of the day, riders determine the success of a boot. The rider alone can determine if the boot is comfortable and good fit.
At TACKNRIDER, we believe in listening to what our customers have to say. Customers' feedback measures whether a product delivers on its promise. Here is a sampling of direct feedback collected from all our customers in Wellington, FL
"The most comfortable riding boots"
"I have an ankle issue that gets exacerbated by riding in tall boots. Freejump Liberty Boots was the answer to all my ankle trouble. My only regret is not switching to Freejump sooner"
"We usually ride 7 to 10 horses a day for hours during the hot South Florida summers. Freejump Liberty XC boots have not only lasted longer but they are the most comfortable and well-fitted boots."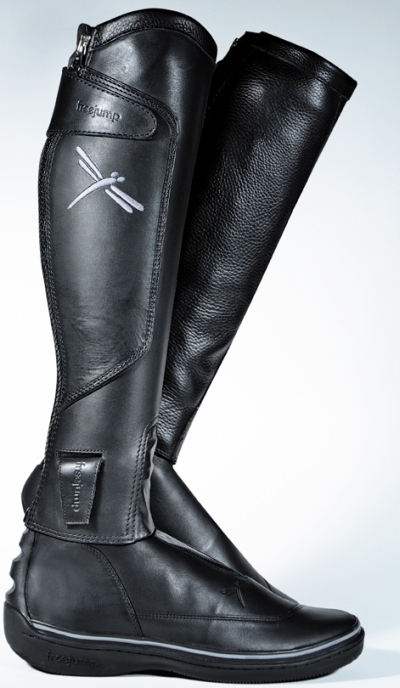 To say that Freejump accomplished this success by accident is untrue. Take one look at the Freejump Liberty Boots and Chaps. It will give you an understanding of the Research and Development (R&D) behind this innovative system. Freejump designed these boots with the dynamics of the human foot in mind. The shape of the foot, pressure points etc are factors to create a boot that fits like custom boots.
A Boot For Everyday Riding (and competition use) : Liberty XC EVO
It is important to separate boots for everyday riding and those for showing/competition use. When you use just the one pair of show boots everyday, they will wear out much faster (regardless of how well made they are). This is true in general. Especially true for boots. Most riding boots are constructed from natural leather. Leather is hide, after all. It wears with repeated use. It must be allowed to breathe between uses.
Freejump Liberty XC EVO presents an EVOlutionary approach to boots. Freejump Liberty XC EVO boots are comfortable and well fitting. Without changing the comfort and fit, Freejump has improved upon the design. The Liberty XC Evo (and its show cousin, Liberty Air Evo) boots feature better foot support. The boots have a suede leather tongue with shaping elbows. This enables extra comfort. The centralized elastic "strapping" supports your foot. It enables better positioning. The end result is a better posture.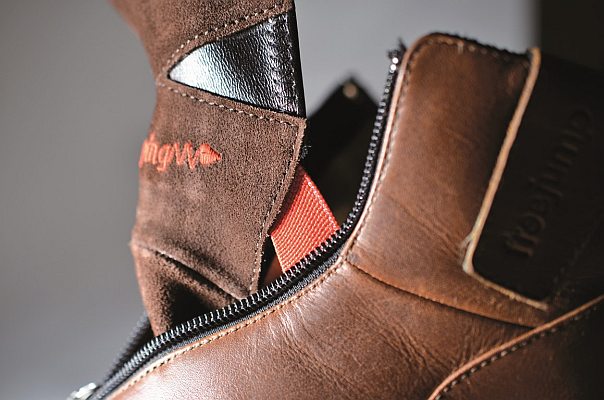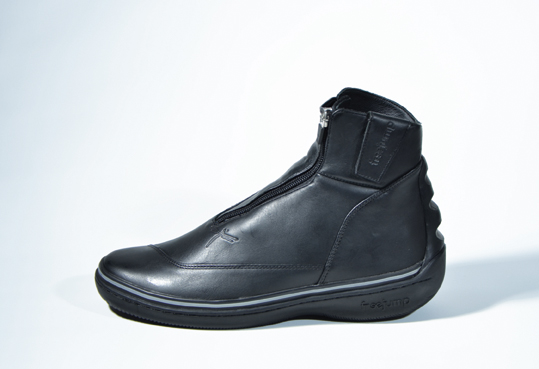 Also, these boots include a 3D-shaped insole. The insole enables leg and foot alignment with the heel. It conforms to the natural shape of the foot. It absorbs the pressure and protects the base of your foot.
Little details matter. This is evident in the design of these boots. With incremental improvements, Freejump achieves big strides in riding boots technology.
Compatibility
The Liberty XC EVO Boots are compatible with the Liberty XC EVO Mini Chaps. They can be combined with the Freejump Liberty XC EVO mini chaps to make a tall boot system.
With Freejump Liberty XC Evo, you get the best of both worlds. The look of tall boots without the stiffness, without the wrinkles.
Availability
Freejump Liberty XC EVO Boots and EVO Mini Chaps are available at the TACKNRIDER store as well as the TACKNRIDER WEF trailer.
How to Measure for Freejump Boots and Chaps
Freejump – Revolution in Show Jumping Boots
Canvas Riding Boots by Freejump