What is a Custom Show Jacket?
Everyone loves the idea of a customized product, but what is it like to truly make something your own? With the superior style?and professional design?of Equiline Competition Jackets, you are guaranteed to learn the true meaning of customization! You can learn to make one of these?show coats?your very own, right down to the buttons.
Why would you?want to settle for a traditional show jacket, when you can create one that's uniquely yours? The Equiline Custom Show Jackets are designed to present you with a wide range of color combinations and variable styles. With this line of competition jackets, you are able to create a design?that will represent your individual style, taste, and personality?unlike any other.
The Equiline Gait Ladies Competition Jacket and the Equiline Rack Men's Competition Jacket are the two standard Equiline models that are designed with customizable details. Each of these styles are available in a variety of sizes to accommodate a wide range of riders. They comes in your choice of a standard black, blue, red, or brown. From here, it's all up to you!
How to Personalize?Your Jacket

Step 1
The first step in the personalization process is to choose an Alcantara color. This customizes the velvety fabric around the collar for a subtle, yet tasteful contrast. There are endless possibilities, with colors ranging from orange to purple to green to white! You can choose something traditional, something elegant, or something completely?outrageous! It's all up to you!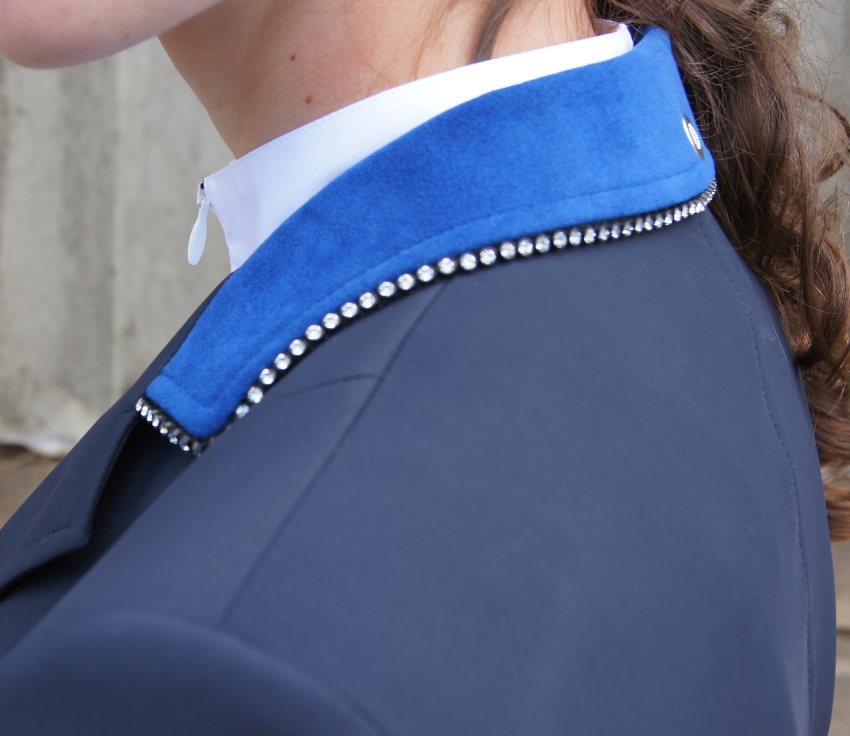 Step 2
The next step in creating a true custom show jacket is to choose a border. The Equiline Competition Jackets are designed with intricate piping along the base of the collar. This piping is available in varying colors and styles. It ranges from small, narrow?detailing to a thick?braided design. The available colors include yellow, white, silver, gold,?brown, and shades of blue and red. In addition to color, you can also choose a style with a metal ornament design. This intricate piping is decorated with shimmering embroidery for a subtle, yet elegant shine.?For a more defined show sparkle, you can even select?a black border with rhinestone embellishments.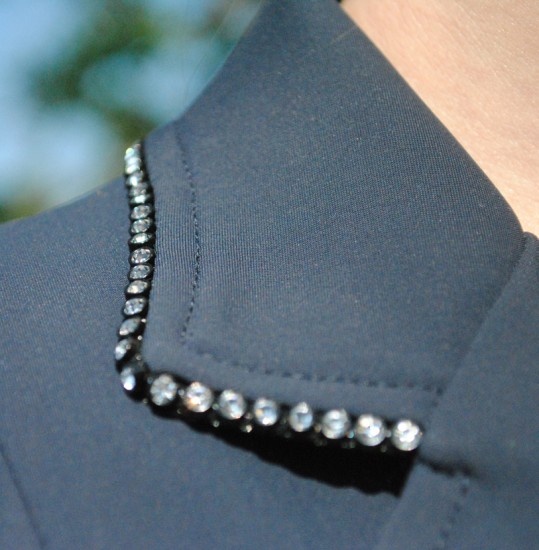 Step 3
The final step in customizing your show jacket is to choose a specific button design. The first style is a decorative button with two rows of rhinestones, lined across the center. They are also designed with the Equiline name, engraved on either side of each row. The second style of button that you can choose is a traditional black button, accented with an oval rhinestone set. With these buttons, you can add a subtle, yet elegant touch of personal detail to the overall style of this show jacket.

Redefining Your Ride
You can experience the superior quality and style of the?Equiline Custom Show Jacket today! We've already placed orders for our very own customers to receive customized jackets of their own! One client has ordered the Equiline Gait Ladies Competition Jacket?in an elegant black color, complete with customized details including a white Alcantara collar, a black rhinestone border, and a rhinestone line button set. Pictures are to come. We are extremely excited to see the individual personalities of our clients reflected in the unique style of these show jackets. The?Equiline Custom Show Jacket symbolizes a revolutionary new style for show apparel.
Why should you settle for an average show jacket? Create a piece that is truly yours with the customizable Equiline Competition Jackets. These show coats are designed to reflect your individuality. No one will have a jacket like yours!
Order your custom Equiline Riding Jacket here.
Feel free to contact us with any questions about customizing your own Equiline Competition Jacket today!